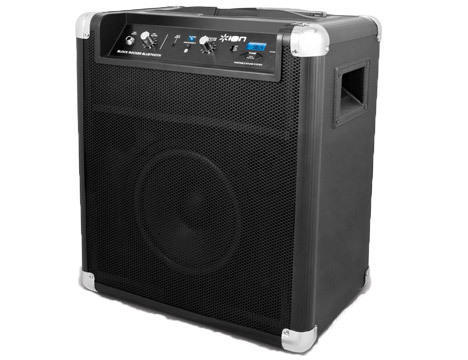 Portable Sound System
Need a wireless speaker/PA/karoake system? This is the answer.
No cords required. This wireless sound system connects to smartphones, ipods, and tablets via bluetooth.  Its wireless capability means you can keep your smartphone or tablet right by your side as you blast your music from up to 100 feet away. Designed to deliver powerful sound anywhere with a 50-Watt speaker that projects your music, loud and clear. It provides up to 75 hours of on-the-go sound with its long-lasting battery. Two fast-charging USB ports ensure your tablet or smartphone stays powered up.
The onboard AM/FM radio ensures you can listen to your favorite radio station or tune into the big game. Connect non-Bluetooth audio devices, such as CD players with the 1/8-inch (3.5mm) auxiliary input. Instruments, microphones, and more can also be plugged in directly for karaoke, music performance, and public speaking events.